Fast. Gentle. Effective.
Treat your patients to
ExEm® Foam
ExEm® Foam is the only FDA-approved contrast agent used in ultrasound procedures to provide in-office tubal patency assessments for women with known or suspected infertility. It's gentle,3 straightforward, and offers real time results — without requiring X-ray, the need for excessive iodine administration, or placing a cervical tenaculum and traction on the cervix, which some patients may find painful — making it an attractive option for the evaluation of your patients.
How ExEm
®

Foam works


10 steps for a more patient-friendly procedure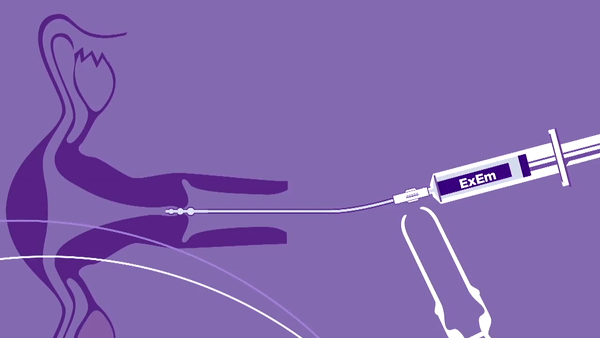 1 Prepare ExEm® Foam according to prescribing information and place side-opening speculum.
2 Place catheter on syringe and insert a small amount of foam into the catheter to expel air. Place the catheter in the cervix.
3 Remove speculum and place TVUS transducer under the catheter.
4 Infuse 1 ml foam; check access to uterine cavity.
5 Confirm adequate placement of the catheter, then gently infuse 2-3ml to fill the tubes.
6 Start longitudinally, spot fundus; rotate to transverse plane.
7 Spot intra mural of right tube; continue to distal.
8 Look for flow > secondary: look for spillage of foam intra-abdominally.
9 Repeat at left side (be prepared for a winding tube).
10 Focus on foam: zoom in, spot flow, use 2D; secondary 3D.
Ultrasound machine
requirements
Any 2D ultrasound machine operated by a skilled sonographer can be used for the ExEm® Foam procedure. 3D and 2D/3D-High Definition Flow (HDF) Doppler ultrasound may offer enhanced accuracy and faster recognition of tubal patency in women with known or suspected infertility.2